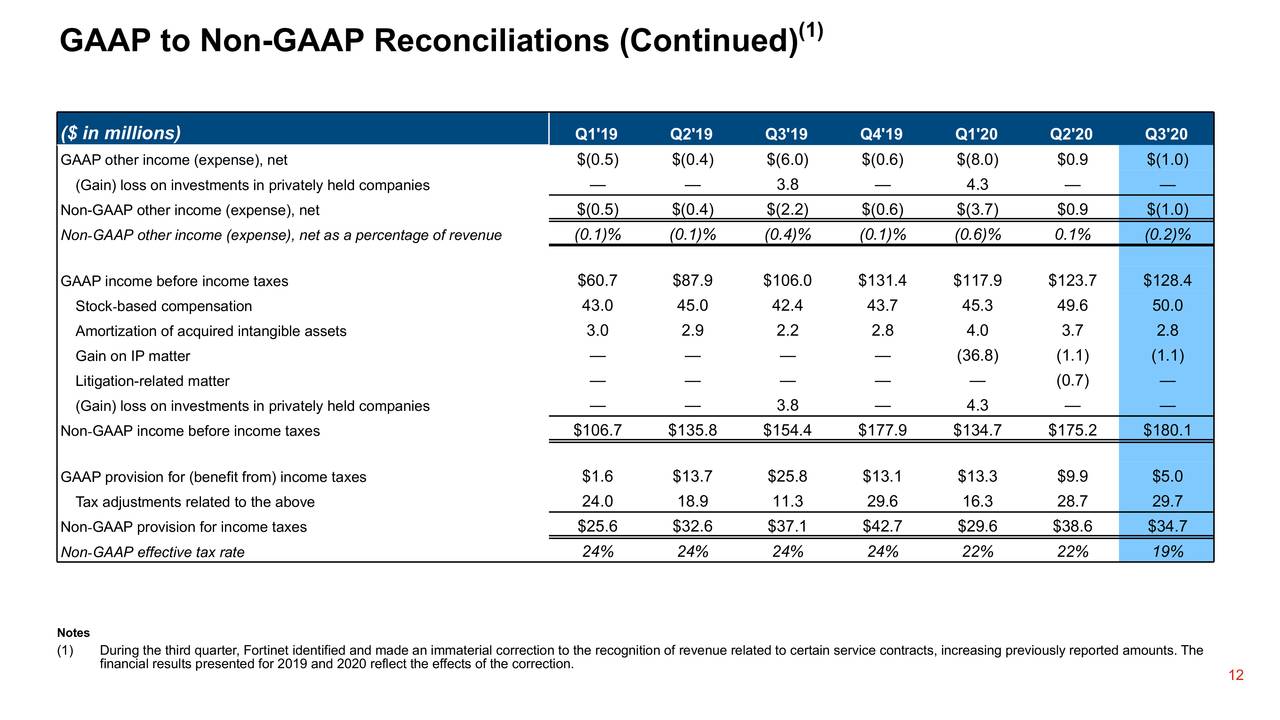 Fortinet last issued its quarterly earnings data on February 3rd, The software maker reported $ earnings per share for the quarter. SUNNYVALE, Calif., Jan. 03, (GLOBE NEWSWIRE) -- Fortinet ® (NASDAQ: FTNT), a global leader in broad, integrated, and automated. Data Provided by Refinitiv. Minimum 15 minutes delayed. Investor Relations. Overview · Company Profile · Quarterly Earnings · Annual Report and Proxy · SEC.
WORKBENCH GRIPPERS
With the acceleration of the growth and a little more understanding of the post-pandemic work patterns, we're turning our attention to reviewing our facilities footprint and the needed office and warehouse capacity in the US and Canada.
As we work through this process, it is possible that our estimated capital expenditures over the next few quarters will increase as we prepare for the next phase of our growth. Looking forward, our goal remains to balance growth and profitability. And given the growth opportunities that we believe lie ahead, we continue to expect to tilt our bias within this framework more toward growth for at least the next several quarters.
The opportunities we see are supported by a strong pipeline, increased sales effectiveness, the growing success with a single integrated security platform strategy and the convergence of security and networking, the response to the current threat environment and our development efforts, which include continuing to invest in our ASIC advantage, which enables a shared operating system across the Security Fabric platform drives our price for performance advantage, increase the capacity to add features and functions while maintaining price points.
And now I can review our outlook for the third quarter, summarized on slide 9, which is subject to disclaimers regarding forward-looking information that Peter provided at the beginning of the call. Non-GAAP gross margin of Along with Ken, I'd like to thank our partners, customers and the Fortinet team for all their hard work, execution and outstanding success in the first half of Please go ahead. Thank you for taking the question and congratulations on the results.
Really nice set of results this quarter. Maybe to start off, Ken, I know you've talked for years about not having exposure to firewall refresh cycles within your business. Could you maybe unpack a little bit the product revenue performance? Are you starting to see perhaps some exposure to the refresh cycles of others? Is this more rip and replace infrastructure upgrades or expansions?
Maybe if you can maybe give us a little bit of an understanding of what's going on behind the product revenue growth this quarter? Thanks, Brian. Great question. I think the industry whether during the pandemic or after the pandemic probably in some kind of a structure changing. It's no longer the traditional border kind of firewall will be enough.
You have to expand into the WAN side like Secure SD-WAN and 5G and also internal has to do like the internal segmentation, replacing the switch with secure switch and the Wi-Fi to prevent all this kind of resin of kind of internal attack.
So that's where -- and also a consolidation also going on and also need to have an integrated like a different part of infrastructure to integrate together to protect the whole attack from multi kind of tech service protection there. So that's where we see it's a big change for the whole architecture of, how to architect the new protection architecture to protect the whole infrastructure security there.
So that's probably different than just refresh the traditional firewall, but it's the new expanded infrastructure need to be -- have all protection there. So that's what we see like the product we announced today sort of is more go inside the high-speed network environment to do all this kind of internal segmentation, within data center protection and all these kind of things.
And then also, we see very strong growth, whether the CQS brand and also the 5G world. That's a lot of brand trial face working home solution there. That's where the unit growth probably even much faster there. So we see the whole infrastructure being changed all ecall secure-driven networking start kind of more adopt by both enterprise and also a different kind of vertical. Got it. That's super helpful. Maybe to follow up, service provider was slightly lower as a percentage of revenue this quarter.
I understand that on the product revenue side, in the high end, you saw a lot better growth. But is that -- should we think about that segment, particularly to the extent that they might be selling through for SASE or you might be getting better traction with OPAQ.
How should we think about growth of the service provider market? Is that still to come? Or is that a more stable kind of mids grower segment for you? Our SASE strategy actually quite a different probably very differentiated from other player.
So we have a dual strategy. We are probably the only one working with service provider to building their SASE. And at the same time, like the service revenue, we kind of lower the margin it be there also investing some on infrastructure if some customers don't have a service provider or want to work with that directly, we also have a kind of SASE solution there, which also integrate with the DOS. And eventually, we also hope we can use an ASIC or a salary to add additional computing power to our kind of on-site solution there.
So that's where we feel it's a long-term investment. But once we have it, we have a huge advantage compared to other competitors. Thank you for taking my question. I had a follow-up regarding the prior question on some of the drivers of product revenue growth. So Ken, as your customers start coming back into the office or as we move into this more hybrid work environment, you talked a lot about these larger network transformation deals.
I was wondering, what do you see the pipeline looking like for those larger deals heading into the back half and beyond? And do you think that some of the things that we saw in the past 12 to 18 months is going to be an accelerant for those more larger infrastructure type deals?
Yeah, we see the pipeline very strong for the larger multiple product deal, which like approach -- I mean, cover multiple part of infrastructure. Just like the product we announced today, the F based on our calculation, we call secure computing region basis, for the same cost, what's the function performance compared to other competitors or industry average.
So we'll have a six better performance basically like -- because the computing power vent is huge from our own ASIC. So that's we're changing the landscape of like the product or whether the network security product or some other leveraged ASIC. This huge computing power gave us much more function and better performance that can easily replace a lot of our competitors.
At the same time, we did see the expansion to the addressable market, whether we will or home or kind of a secure internal network inside the company, inside data center, which also drives a lot of high-end product growth. So the high product percentage also, we see probably pretty high, maybe the highest in the last few quarters or even last few years. That's helpful. And maybe just a follow-up question for Keith or Ken. Keith, you mentioned the operating margin in the back half having about basis points impact from FX.
I was just wondering, just on your spending plans around hiring, what you're seeing there? It's obviously very competitive market for talent these days. And I'm wondering if that's been factored at all into your guide? I think we obviously pay attention to our recruiting and to our attrition rates. I would offer that the sales headcount actually grew significantly more than that. So I don't -- I think that we're in a bit of a sweet spot and it kind of relates to what Ken was saying in just a moment ago in terms of the success that we're having.
I think you could read through to the high end FortiGate is probably being data center deployments and probably taking advantage of some competitors that are going through a refresh cycle. And at the same time some of the branch FortiGates, maybe reflective of digital transformation, and I think the audience of salespeople, understand that and they see the opportunities there. Thanks guys. For my one question, I just wanted to dive into, Keith, in your prepared remarks you made the comment that the majority of growth was driven by FortiGate, are driven by FortiGate revenue from other capabilities embedded in the operating system.
I wondered if you could kind of peel back the onion there. What does that mean? And what capabilities were you referring to that were in particular demand in the quarter? I think that we tried to make the point in the past that the -- some people think about the firewall somewhat simplistically, we probably track close to 12 to 15 different firewall use cases whether you want to talk about micro segmentation, IPS, et cetera.
All of those -- the totality of those -- the growth there was, contributed more, if you will, than SD-WAN. So I think there's a long list of things that a firewall is used for. And we were very pleased with the success that we saw throughout that suite of offerings. We see very strong interest in this area, both from the service provider or enterprise on work-on-home solution there.
Thank you guys for taking my question. And following the lead of Mr. Auty, I'd like to ask one question. Could you elaborate a little bit on your commentary around some of these non-traditional verticals that are starting to tick up meaningfully in spend.
Is this more onetime in nature or these verticals are just starting to wake up to some of the security issues that we're reading about in the media every day. And to that and maybe you could comment a little bit around your OT success in your strategy there? And Rob, I think you did a very good job of laying all the dots to connect there.
We talked -- we're looking at industries or verticals such as manufacturing, transportation, energy, utilities or what have you, and to see the dramatic growth that we saw in that segment of the business. We've historically talked about our top five financial services, government, service provider, tech and retail. But we saw a significant shift this quarter to those others, and it was just the sheer growth that we saw on those others. And the point that you alluded to, OT. OT performed very, very strongly in the quarter.
And I think that's consistent with what we saw with that vertical growth and those other verticals that I just mentioned. Thank you. Also single question on my end. When we look at the building up side, revenue up that you printed, can you impact for us the mix between new logos and the current installed base?
Any qualitative color and discussion will be appreciated? Shaul, it's Keith. And I've given numbers in the past to kind of suggest that 5, customers that we had in the quarter, obviously, a very strong quarter is going to be north of that. First part of the response. Second part of the response, you would not normally expect to see that the new customers in the initial quarter would be significant contributors to revenue but rather contributors to revenue growth over a longer period of time.
But there was a very strong performance from the new logo segment in terms of customers that signed up with us in the quarter. Hey, thanks for taking my question here. Ken, maybe for you. You touched on this a little bit in your prepared remarks, but can you just talk a little bit about the new pricing options that you announced recently? Specifically, do you feel like there is demand for that per user pricing for kind of access to the broader FortiCare and FortiGuard portfolio?
And what was sort of some of the early feedback as you maybe tested those options? We do see, going forward, especially like work from home or remotely the producer lessons, which can cover multiple devices, including the mobile operating own device to work from home and also internal inside enterprise company there like cover multiple like not just the FortiGate as they go through the zeta network access, but also some other like a web or may or some other application or kind of part of infrastructure data center, they need access.
So that's per user license will make it much easier for the user, for the customer to really using the security service in the multiple part infrastructure, carbon multiple product there. So that's where we feel this is also very important and on top of the current FortiCare, which cover all the products we have and also the FortiGuard cover the product need a real-time update on the subscription, all these kind of things there.
So we do this for trust is probably the trend in the future, but still needs some time to ramp up especially we see the Zero Trust network access starting to have a pretty quick growth opportunity, which we -- Forticare have all this building. And also the identity, how to kind of make sure the identity across multipart infrastructure and easily kind of management user, we do all this to service also kind of get very important.
Assuming some time to ramp up, but we do see there's a huge increase in demand from the customer. That's also the reason we launched this FortiTrust service. Hey everybody. Nice quarter, of course. I think for both Keith and for Ken. A lot of people have been circling around and trying to understand the strength and the upside. But I guess I'd like to just try to compare where the demand was last year during to where it is this year and why it seems so much stronger?
Has there been a shift say, from remote access focus to more breach? Or what has changed both qualitatively and quantitatively that we're seeing this acceleration? I think last year, they're probably more like rush supporting whatever can make it working remotely. But this year, they definitely see the infrastructure to be operating to be changed to more support in this long term.
So that's where we see a lot of new infrastructure design and how to support not just work remotely, but also secure the whole infrastructure different part of infrastructure from the WAN access to the internal segmentation and also even the 5G or SD-WAN or internal WiFi. So there is a lot of secure architecture cover multiple parts of our product. It's a very strong interest. Yes, Michael, I think I would agree with Ken completely and maybe just to add, if you think back about Q2 specifically, at least for us, it was a quarter that was characterized probably by a lot of software.
We did very well with our software in the second quarter last year. But on the flip side, anything that requires somebody to be on-premise in a data center or taking on a large deployment or phase deployment or something like that. Q2 of last year really wasn't much of that. Obviously, today, I think it's a year later; it's a very, very different environment in that regard.
And I do think you're also seeing the threat environment and things like the OT part of the business do very, very well. Good afternoon. I just wanted to understand, if you're running into any issues around the supply chain or potential chipset shortages. And does this lead to any potential impact to your order cadences at all? Hello Jonathan, I'd love to say that we're completely immune to chip shortages and such, but I can't say that.
Yeah, I do think that as we talked about last quarter, the fact that our inventory turns of around two are suggested that we have six months of inventory on hand. We do and some of the chip manufacturers, we're pretty focused on a week lead-time. I think I feel very, very good about how the manufacturing and operations team executed in the second quarter, and how they're going about things for the third quarter and for the rest of this year.
I would offer that as part of the forecasting process and the guidance setting process, that has become a more significant input, if you will, into that process and making sure that we've accounted for it in terms of our estimates of any challenges that we may have as we move through the rest of the year. Good afternoon everyone. Thanks for taking my questions.
Ken, historically, when there are periods like this where you see accelerated purchase behavior and a little bit of a run on supply, if you will. Inevitably, there's a bit of a digestion period after the fact as customers learn how to deploy and consume what they just purchased.
Could you talk a little bit about how fabric in the broader organization, either in sales or the channel is addressing or thinking about that potential risk into the future? Definitely more and more customers see the benefit of the fabric Fortinet Fabric, which come multiple products in maid automate together. So it's customer by this multiple product, most of them are already like whether they are a customer or already test them on the part.
And then, just keep expanding beyond what the initial purchase there. So we do see the interest as much stronger and the non-FortiGate also keeping growth much faster than the FortiGate, which keeping expanding from whatever the current installation base within the big enterprise.
That is also the Gartner forecast see the integration, the consolidation starting kind of more and more important for this big enterprise. Because to manage multiple products from different vendors is a much higher cost compared to like the platform approach, which can multiple products cover different part infrastructure, also integrate automate together with the Fortinet Fabric product we have. Ben, it's Keith and to kind of build on Ken's comment, I think the -- that is the business strategy, right?
If we look at our installed base with customers and see how their adoption progresses in terms of the number of fabric products that they had, over what period of time, we would certainly expect that to continue on. And then if you look in the current quarter, the new customers that we added, those are largely -- those are buying firewalls, if you will, and maybe one or two things, if you will, from the fabric suite.
But as we would expect them, because I understand they have to digest and install the firewalls. But as we get -- as they get to know and understand our product and our integration strategy more and more, that we'll have the opportunity to come back in and sell them additional products and services as we go forward. So I'd like to stick with the topic of non-FortiGate and fabric and cloud and just sort of the strength that you've been seeing there.
Within fabric and cloud, what are like the biggest product components that have the most momentum? And then how should we think about just the sustainability of that demand longer term? The non-FortiGate, we have almost 30 products, most of the developed internally and so it's super not give up any individual product because it's up and down quarterly and also pretty much all contribute kind of to the growth.
We don't see any one or two too much kind of compared to the others. So that's probably maybe sometime later, we can start get certainty out. But at this stage, we do see -- it's also dependent on the customer environment, depending on the sales supporting like some of them like to have an email, we can with FortiGate some is a website, some is endpoint, some is like a network access control or some kind of sandboxing and cloud product.
It's quite a wide cage of kind of even cover all these like product. So that's where it's very difficult to break out and then try to see the trend. But we do see that the common message really consolidate, integrate, automated approach definitely has a huge benefit compared to our separate product come from different vendors.
You may now ask your question. I wanted to ask a strategic question to Ken. You had record quarterly free cash flow, so keeps doing a poor job at managing that more efficient balance that you talked about at the Analyst Day. But all joking aside, Ken, you've got significant liquidity available, both on the balance sheet and you can imagine lenders beating down your door.
So if you could double click on the key tech areas that you would consider to enhance the value proposition. I would just imagine that SASE is accelerating. For example, some of those secure web gateway players in the private markets are more mature and would that be an area of consideration or any other key areas that you would consider enhancing the value proposition inorganically? We're definitely keeping closely watching out of the change in the industry and also new technology ever since.
But also, we want to keep the innovation at the culture we have in the last 21 years and also keep the organic growth very strong. I probably the cash level and the investment strategy to Keith to cover that. You do see us doing tuck-in acquisitions.
Sometimes it takes a little bit longer to bring to market perhaps because the technologies are things that we want to work with a little bit more before we bring them out. So I don't think that's a surprise. I don't know that, that precludes us from doing something larger in the future, but we'll look at those opportunities as they come up.
The continuing focus will be finding the opportunities to rebalance the balance sheet with a little bit of and deploying some of the cash that we raised with debt offering, perhaps to repurchase some share buyback, if you will. And at the same time, also, as we look out for the next three to five years, and we anticipate continued growth, perhaps a little more investment, if you will, in our facilities footprint. Thanks for letting me in. And I would also like to add my congratulations on the great quarter.
I was wondering if you can perhaps unpack some of the drivers behind the continued momentum here. Whether the current hybrid work environment has been a contributor behind this strength? And can you help us understand what workers gradually returning to offices means for you?
Irving, good question. The approach we have integrated security from our beginning and leverage the FortiGate has a huge computing power part of the FortiOS, FortiGate. We see a huge advantage compared to some other competitor, whether using the universal CPU or some other approach, which is difficult to add any function because the company power limitation from a low-cost CPU. If not now, definitely will be soon. We believe our pricing actions have been met with understanding by our customers, as evidenced by our Q3 results and strong pipeline growth.
We view the current situation as a supply challenge, not a demand challenge. Now I'd like to review our outlook for the fourth quarter summarized on Slide 9, which is subject to disclaimers regarding forward-looking information that Peter provided at the beginning of the call. The following guidance reflects our best effort to estimate the supply chain impact. Based on our very strong third quarter performance and the upside I just provided to the fourth quarter expectations, we are once again raising our guidance.
Along with Ken, I'd like to thank our partners, our customers and all members of the Fortinet team for all their hard work, execution and outstanding success. Your line is now open. Good afternoon. Thank you for taking the question and Congrats on some really nice results this quarter. I guess, Keith, you spent some extra time talking about the supply chain, and it's certainly the most frequent question I've gotten from investors, particularly over the past three weeks.
So could you maybe help us understand what kind of headwind you're quantifying or accounting for in your 4Q guide, where you might see risk in the supply chain? And then what you might be seeing from peers, particularly where you may be benefiting from having supply where your peers may not have product?
Thanks, Ryan. And I don't know that anybody knows all the answers to the questions that you've kind of articulated. I'll give you some color, if you will. I think we saw a little bit of supply chain pressure in the second -- in the third quarter, as I alluded to, but obviously, the number is nothing that was terribly noteworthy. I do think the guidance that we've given for the fourth quarter is appropriately conservative, if you will, in terms of what we see for supply chain and what we would call backlog in the fourth quarter.
I think we feel good about the guidance that we've given. I think the -- if you look at kind of the general tone and what we're hearing from our operations team, I think there is some time in the third quarter where every day was very dynamic for them, with people calling and then having to scramble about component matters and contract manufacturing commitments or what have you. I'm hearing less about that at this point. That's probably very early on.
I would also offer that the backlog or supply chain first appears for us in some of the Fabric products, the non-FortiGate. And I think that will continue on a little bit into the fourth quarter and probably also get to the FortiGate to some extent in the fourth quarter as well. Getting out to , I think everybody is kind of in the same boat and trying to understand when we're actually going to see something that's a real marked improvement.
And I think we'll probably kind of hold back commenting on that for the next several months until we get closer to providing guidance for the next year. Brian, this is Ken. A few other points to add on top of what Keith said. I think we are a little bit better positioned compared to competitors. First, it's really -- we have the quantity much larger than a competitor, like we're probably like 3 times compared to the Cisco in unit shipment, maybe probably 10 times than Palo Alto and some other, which give us better negotiation power with some of the supply.
And also, we manage all this more directly compared to our competitor who go through some third-party. So that does give us better visibility and also can act quick earlier. Second, we have quite a broad product line, both in the FortiGate and also non-FortiGate. It's more easy for a customer to really go to the next line of product, have a similar performance and outrunning the FortiOS in FortiOS.
So it's more easy to using some different product to some of the product shortage. And also, we have a great team operation side. And at the same time, we have a culture more invested in the long term, both on the inventory, some other things compared to a competitor to me, some -- even like 5, 10, 15 years ago, we tend to keep some more inventory to meet some customer urgent needs.
So that actually benefit us in this supply chain issue. Thank you very much. And I'll honor Peter's request for just one question and step back in the queue. Hi, guys. I want to focus on the most important part, which is the growth acceleration. The question is, can you identify the key areas? I know that a lot of areas are growing. But when you look at material areas, meaning the most -- the highest contribution to the growth acceleration, what are the key areas?
Can you share with us the key areas where you see the highest growth in terms of dollars? I think that these both contribute for the growth, like Keith said. And also some vendor consolidation, we see some smaller vendors starting to kind of go weaker and weaker. So we do see some market share gain here also. And when you look at , and I know you don't provide guidance, but when you look forward, do you see the same drivers continuing to support growth acceleration?
Or how do you deal with these high targets next year? We do see this trend has not slowed down or will last for probably a few years, whether we call secure-driven networking, our Security Fabric, which really we're helping the enterprise or service provider to get better security to the customer on these things. So, so far, we don't see anything slow down.
We feel we are well positioned to keep and gain market share. I would just echo what Ken said, Tal. I think the threat landscape is a hot topic of conversation, and all quarters of the world is seeing right now, and it doesn't seem like that's going to abate any time soon. I think the need -- what Ken and the team have built here with providing security and networking speeds is critical. But I think also this platform of what Gartner is now calling the mesh architecture, the cybersecurity mesh architecture, I think consistent with Gartner's other reports about the percentage of companies that are looking for consolidation, I think Ken has commented on that and how that's going to continue to increase.
It certainly seems that those tailwinds are poised to continue to exist as we get into Congrats on the performance and guidance, guys. Keith, the Federal vertical had a good performance. Was it just a typical third quarter government seasonality? Or do you see that sustainable going forward, given your recent investments within this vertical? So keep in mind, for us, the government is a worldwide number when we talk about it. So it includes some U.
It has been a very strong vertical of ours for well over a year, if not two years now. And I certainly don't see any reason that just on that basis that it will slow down. And I think if you overlay that with the investments that Ken and team are now making, particularly as it relates to the U. Federal team, I think there's some opportunities for us to explore and exploit hopefully as we move forward.
Thank you. Keith, I'd let you drill down on the FortiGate side and really understand where the purchasing is taking place and for what. It's good to see, I would think, that we're modernizing data centers. Is it data center expansion? Is it displacements? And again, surprising perhaps, considering the move to cloud. I think what we're -- and I hate to give compliments to my peers.
But I think what we're really seeing here is really strong execution from the sales team. I think we came into this conversation feeling that we had a very strong product suite. But I think the sales team has done a stellar job. And we talked to them about the same question you just asked me, where is this coming from? I can hear in them the confidence when it comes to displacements. There's certainly no competitor that they're afraid of.
I can hear them articulate back the platform strategy, the land-and-expand strategy. I can see them using some of the tools and products and technologies that we've invested in and invested in them, and they're leveraging them, I think, very successfully. So it was a question going back, I think, that Tal had asked about, and we used this term before, rising tide lifting all boats. And I think we saw that in the quarter. There wasn't a weak geography.
There wasn't a weak product suite. I think everybody performed very strongly. I think it's the same question, so hopefully not to, but I'm just trying to figure out, of course, execution and competition doing well that way. But where are we in terms of people just buying stuff to put in data centers when we're really in a cloud mode here. Is it because of the refresher? Why are we seeing that investment?
I think it all plays well, like, long-term ASIC strategy, which had a lot of performance and the more function and, at the same time, cost lower and low power consumption also. That's where the security is starting to expand, inside the data, inside a company, internal network. So it's really starting to expand to the whole infrastructure instead of traditionally just secure Internet border. So that has a much bigger total addressable market. Sometimes we call secure-driven networking, but it's really a more expanded market and has a more strong security need.
Yes, thanks. Hi guys. I'm going to ask my one question as kind of an extension of what Michael was just kind of talking about. I'm curious, as you look at the growth in the quarter, even if it's qualitative, can you help characterize for us how much of that growth is coming from actual displacement of solutions, both traditional cybersecurity and networking, versus how much of that growth is coming from existing customers buying additional expansion, so additional products just to build out to handle their growth needs?
I think the metric I would give is 6, new logos. So I think that -- I'm going to go back and say, I mean, the execution was very strong across the board. Did we -- was there a penetration -- greater penetration in our installed base of customers? Absolutely, no doubt about it. But at the same time, that's two quarters back to back now that we've added 6, new logos. And I know some of those are small enterprises. But we are getting the add-backs that we've always coveted.
And I think coming with more add-backs, I think we were seeing stronger execution as well. Also, the existing customers keep expanding their security infrastructure approach like adding to the WAN side, SD-WAN 5G and also expand to the internal segmentation of Wi-Fi security, data center security. So that's why I think the -- both. But I do see probably a little bit more come from the customer keeping -- expanding their security infrastructure.
Next, we have Rob Owens from Piper Sandler. I guess I'll pivot a little bit from Sterling and ask about G2K specifically? And what is driving the strength in G2K billings? Is that product-related? Is it just better distribution relationships that are getting you into these accounts? And who do you think share is coming from in this market? I think the -- I would give a general comment in terms of where -- who is the market share gainers and who are the market share donors.
I don't think there'll be any surprises if I'm asked to mention names in terms of who I thought those were. In terms of distribution, I think when you get in particularly into the U. And I think that the team has done the heavy lifting on that. And I do believe that we are getting more momentum, if you will, from those large U.
So I think there's some of that. And I think we've continued to invest in both the sales and the marketing. We knew all along for several years now that we needed to improve our coverage in terms of number of accounts that were assigned to reps and the people that we're bringing in from outside that maybe had more of an enterprise experience and less of a channel experience, et cetera.
So I do think that all those things have combined and are demonstrating the success. Hey, guys. Thanks for taking my question. I'm going to keep it to one question. I think that was the first time you mentioned that product specifically. Just curious, can you give us any rough sense of how material that's becoming to your overall billings? And what's been driving that in more recent quarters? But also, I don't think we're -- I think that it's reached a point, if you will, in terms of size that we're comfortable and we think it's worthwhile making sure that we share with people outside the company those growth levels.
Hey, guys and thanks so much for taking the question. Maybe just for Ken, so back in September, you guys signed a partnership with Linksys around securing work-from-home environments and segmenting corporate and personal networks. And I know one of your competitors also announced a similar idea.
So how should we think about the idea of securing home networks and effectively the home becoming an extension of a branch office of one and the opportunity to do that as we live in this work-from-anywhere world going forward? We see, it's a new market. There's a lot of potential supporting work-from-anywhere, that's where we partnered with Linksys and we tracked down in -- the home networking area for quite a while. And we do believe, eventually a lot of the result is IoT, some other things connect online and also a lot of work-from-home and school-from-home, all these kind of things, they all will need security, which we combine with the network security -- endpoint security and also the cloud, some other SASE solution.
So we do feel it's a big long-term potential. But it's not quite -- I mean the business actually ramped up quickly, but it eventually will contribute more revenue to the company. Congrats on the strong results. I just wanted to, I guess, understand a little bit better sort of the dynamics around the price increases to your base. Can you give us a sense of maybe the magnitude or impact to the quarter from those increases? And is there a potential for that to stick even beyond some of these supply chain challenges?
We kind of -- we'll carefully increase the price based on our cost increase, which are also kind of supported by some of our partners. And at the same time, because we have much better performance-price ratio and also more functions, especially on the FortiGate side, so we do feel we have more room to address by some of the price, and still our customers do like the product.
So since, we did some price increase, and we'll just offset the cost increase and will get margin back on line. I would add to that, I think, Jonathan, one of the metrics that we looked at in the third quarter was just our ability to hold the line on the price increases, which were largely effective on August 1.
I say largely because you have to give notice to your channel partners, which is appropriate. And you can imagine them taking certain actions to get orders in the first month of the quarter, if you will. So it gets a little bit distorted that way. But we do look at our ASPs and wanting to make sure in our discounting that we're not giving back that price increase, if you will.
And overall, I think the headline is that we think we were -- on the direct product line, I think it was accretive to the margin in the quarter. And I emphasize direct because as volatile as it is, predicting things like expedite fees and sometimes freight as well can come into that line. So I think overall, when you factor in direct and indirect, we're probably in a wash for the quarter.
Thanks for taking the question and Congratulations on the good numbers. So yes, within your non-FortiGate billings, can you roughly give us a sense as to how much is related to appliances versus software and cloud? And then how should we think about supply chain issues potentially impacting non-FortiGate in Q4?
And as I mentioned in the call, I think the first place that we saw supply chain pressure in this third quarter was in non-FortiGate, more specifically around switches and access points. Congrats on a great quarter. I want to ask about the high end. Can you just talk about the drivers of the high end and whether the 5G rollouts and your leadership position in the carrier market might be contributing to that?
Yes, the big enterprise, the Global definitely contributed some high-end growth. And also on the product refresh side, in the last one to two years, we also refreshed the high end. So that also is having benefited with some of the refresh we made in the last one to two years. But the 5G is still in the ramp-up stage.
I don't see much, but I do see it's a huge potential.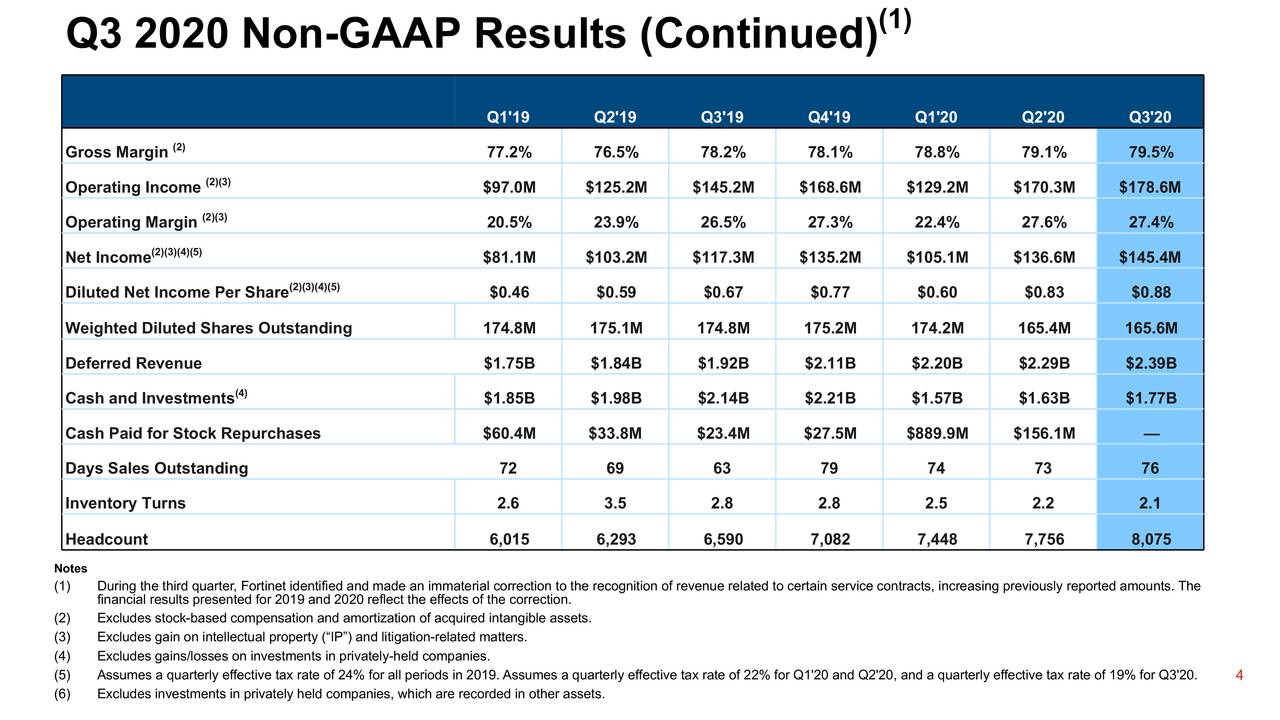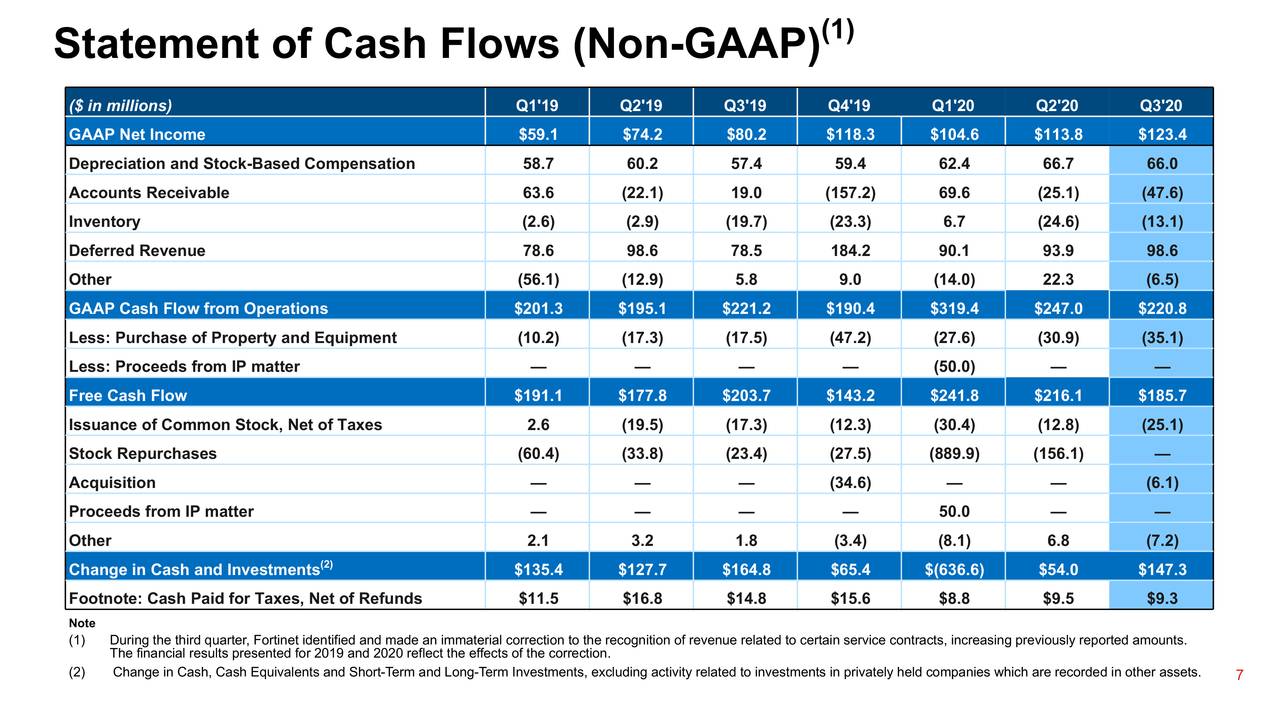 DOWNLOAD ULTRAVNC PARA WIN 7
Fortinet earnings call mysql workbench forward engineer
EM CLIENT APPLE MAIL
Fortinet earnings call mysql workbench mariadb
Следующая статья ultravnc tabbed viewer download
Другие материалы по теме